For families coming to Las Vegas a common question we get asked is which Cirque du Soleil shows are the best for kids? The good news is all of them are kid-friendly, and they are some of the most popular and fantastic shows on The Strip. With amazing acrobatic talent, stunning visuals and costumes, and astounding storytelling, the following Cirque du Soleil shows will be thoroughly enjoyed by adults and kids alike.
Mystere At Treasure Island
No Age Restrictions
There is a reason Mystere is the longest running Cirque show in Las Vegas. Everybody loves it. It has everything you would imagine a top show should have including breathtaking acrobatics and a theater perfect for all the mystical storytelling. We also ranked it as our overall #1 show for kids in Las Vegas.
What kids love:
Children will be amazed by the magical Mystere characters, especially the larger than life baby which adds some fun comic relief.
Michael Jackson One At Mandalay Bay
Children Must Be 5 Years of Age or Older
Michael Jackson One brings a new level of Cirque magic to the stage with the King of Pop. With the perfect blend of dance, music, aerial stunts, and elite show production it is a no brainer it is loved by audiences from around the world. Be ready for an epic journey to be enjoyed by all.
What kids love:
The energetic choreography matched with music and vibrant visuals will be the favorite show points for children with MJ One.
"O" At Bellagio
Children Must Be 5 Years of Age or Older
When constructing a Cirque show around a 1.5 million gallon pool you know there is going to be something unique and special about it. "O" is hands down the crown jewel of Cirque du Soleil shows in Las Vegas. Everything revolves around the water including circus, diving, themed, and technology.
What kids love:
"O" has a fantastic blend of enjoyable characters matched with epic acrobatics. Kids will find the most enjoyment from these amusing characters and will be completely wowed by the high-flying diving.
KA At MGM Grand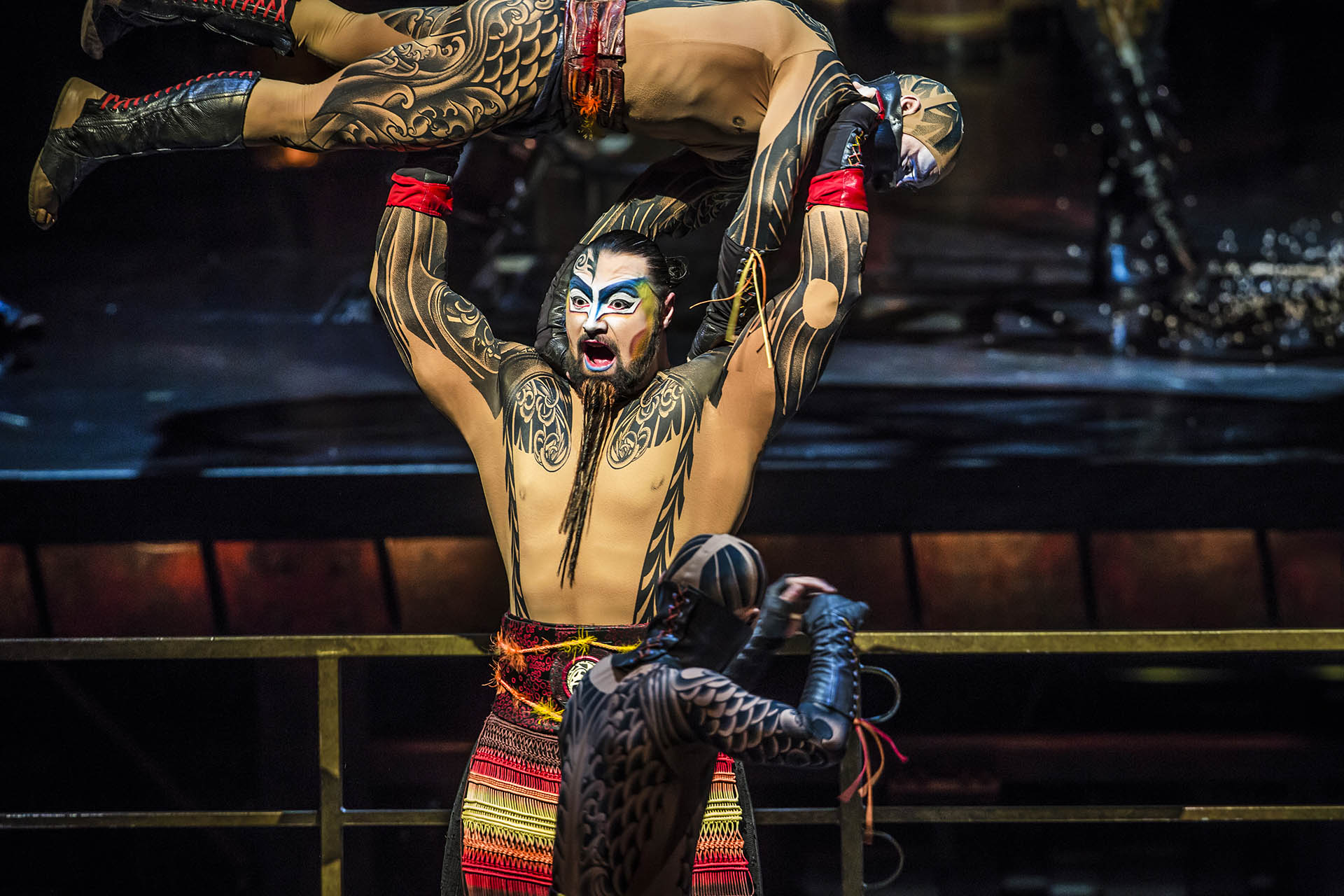 Children Must Be 5 Years of Age or Older
Action, adventure, and epic battles make up the focal point of KA. The show follows the story of brother and sister separated during war and incorporate epic fight sequences paired with the latest video mapping and visual effects technologies.
What kids love:
Children will be immersed in following the adventures of the two main characters of the show as well as the mystery and awe of the theater and it's moving stage capabilities.
The Beatles Love At Mirage
Children Must Be 5 Years of Age or Older
While the music of the Beatles may have the most direct connection with adults, the entire show is still a top choice for kids to enjoy in Las Vegas. The timeless music is brought to life with an elaborate show that incorporates high-flying acrobatic stunts and a fun array of characters. Whether you know the music or not, there is plenty of magic with The Beatles LOVE.
What kids love:
Having a theater with 360 degree views makes it super easy for children to see and enjoy all the action present on stage. They will enjoy light hearted production ambiance and memorable characters.
Looking for more things to do with families and children while planning your trip to Las Vegas? See our list of the Best Las Vegas Shows For Kids or the Best Things To Do With Kids In Las Vegas.